How Bariatric Surgery is more Successful
Best Bariatric Surgeon In Jammu
Dr Amit Sood the Best Bariatric Surgeon In Jammu says that Bariatric or Weight loss surgery is also known as obesity reduction surgery, Which people consider a good way to reduce obesity. When a person's weight starts increasing, then they try to do many types of diet and exercise to reduce or lose it, but results are not much successful and sustainable for a longer period of time.. Let us tell you, obesity can give rise to many harmful diseases like diabetes, sleep apnea, arthritis, high blood pressure and stroke. 
Therefore, you should always keep your body healthy and in a limited weight. Bariatric surgery is performed to limit the amount of food intake of the patient and helps in losing his extra weight. Bariatric surgery has long been shown to be beneficial in reducing weight, and reducing the chances of developing diabetes. 
Why Is Bariatric Surgery Done?
Bariatric surgery is weight loss surgery. This surgery is used to reduce the obesity of the person. People who have a BMi of 35- 40 or more, such people are eligible for bariatric surgery. In general, a person's BMI should be in the range of 19 to 25. If you are gaining weight and your BMI goes above 30, then you can reduce obesity with the help of a doctor. But they are not allowed to have surgery. However, in those whose BMI is between 35 and 40 and the person is healthy, then the doctor may recommend bariatric surgery.
In many cases, DR Amit Sood best bariatric surgeon in jammu says that surgery can be recommended to patients with a BMI of less than 35 if they are previously suffering from any disease such as high BP, diabetes, any heart related disease, hypothyroidism, joint pains or backache etc.
 Bariatric surgery is the best option for you which will help you lose weight safely. While many believe that gastric bypass enables faster and more significant weight loss, it is also irreversible for gastric bypass surgery patients following a stricter diet than those undergoing gastric banding. Should be even more careful. As a result of these factors, there has been an increase in the popularity of LAP-BAND and other gastric banding procedures. But recent studies have shown that healthy weight loss is more dependent on a person's willingness to follow a healthy nutritional plan of exercise. Your bariatric surgeon doctor and others will explain bariatric surgery and help you choose the procedure that is best for you.
How Is Bariatric Surgery Performed?
A person is tested before having bariatric surgery. In which it is seen whether the person is medically fit or not to undergo the procedure. However, some investigations are done to know.
Like doing a blood test in which information about the hemoglobin of a person is found.
After that check the ECG. In this, the diseases of obesity are detected.
Bariatric surgery is allowed only after a person is medically fit.
If you are taking any kind of medicine, then definitely inform your doctor about it. So that the doctor can make some changes before the surgery. Apart from this, if you are taking blood thinning medicine, then it is advised to stop the medicine a few days before the surgery. However, if you remain healthy, then you are allowed to start the medicine again.
Bariatric surgery completely changes the structure of the gastrointestinal region, which includes the stomach and digestive system. After this surgery, there is a loss of appetite, due to which people use less amount of food, due to which the weight starts decreasing gradually.
Benefits Of Bariatric Surgery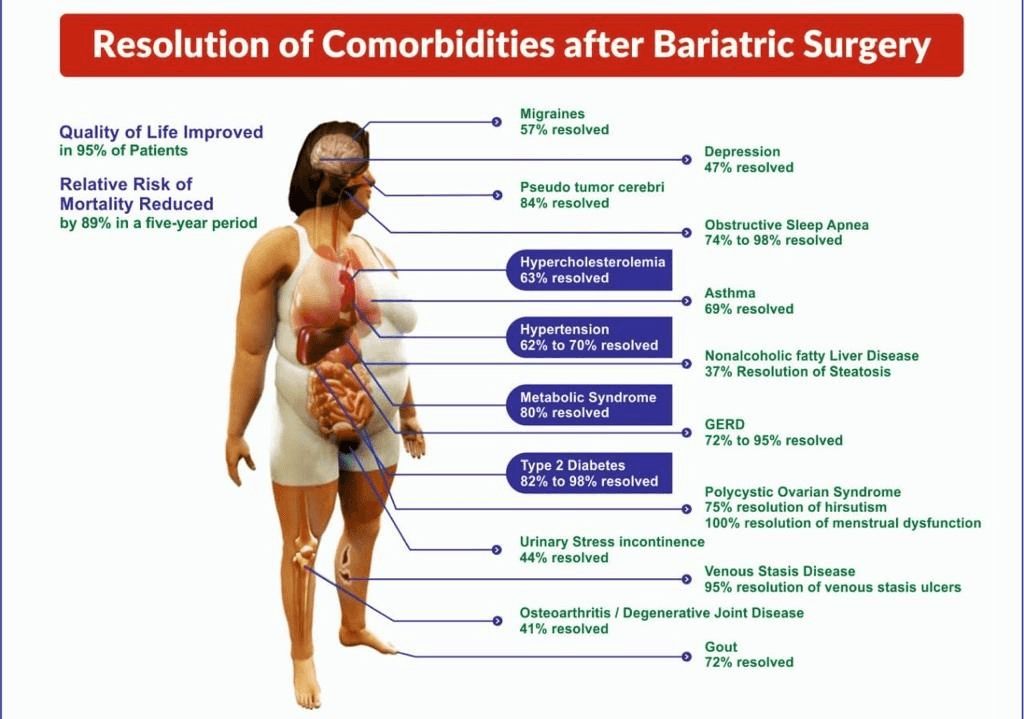 Our patients have been able to lose up to 70 – 85% of their excess weight. Those thinking about surgery should talk to our Doctor about what their personal expectations should be for loss of excess weight. In addition to this, co-morbidities such as diabetes, high blood pressure, sleep apnoea, infertility, thyroid etc… are often reduced or completely cured.
Types Of Bariatric Surgery:-
Gastric Sleeve Surgery:- Gastric sleeve surgery is such a surgery, which is performed on a person who is suffering from the problem of extreme obesity. In gastric sleeve surgery, laparoscopy equipment is used and with its help the size of the stomach is reduced.
Gastric Bypass Surgery:- Gastric bypass surgery refers to weight loss surgery, in which the upper part of the stomach is tied up and the lower part is attached to the small intestine, so that food passes directly into the small intestine. Gastric bypass surgery makes a person hungry.
Gastric Bypass Surgery:- Gastric bypass surgery refers to weight loss surgery, in which the upper part of the stomach is tied up and the lower part is attached to the small intestine, so that food passes directly into the small intestine. Gastric bypass surgery makes a person hungry.
Bilioparetic Division:- This procedure is performed for patients who are extremely obese and have a BMI of more than 50. Part of the stomach is removed and attached to the end of the small intestine.
How To Care After Bariatric Surgery?
Patients who have undergone the treatment should keep following points in mind says Dr Amit Sood best bariatric surgeon in Jammu.
Keep the patient's wound dry and clean after surgery.
Stitches or staples are removed seven to ten days after surgery. Apart from this, keep changing your bandage daily.
Avoid wearing tight clothes.
Avoid bathing until the patient's wound heals.
Avoid getting wet in a swimming pool, hot tub or bath unless directed by your doctor.
It is necessary to be on a liquid diet for at least 2 days after surgery.
Only soft foods like oatmeal, sards, egg whites etc. can be eaten.
The patient is advised to walk regularly after surgery and should start proper physical exercise only after 3 months of surgery.
The doctor may recommend vitamin and mineral supplements to protect the patient's health.
What is cost of Bariatric surgery?
The cost of bariatric surgery depends on several factors such as the surgical procedure chosen, associated co-morbidities, multi-port or single port, hospital stay expenses such as room rent, duration, etc.
We offer Bariatric Surgery at the lowest cost and under all medical insurance policies says best bariatric surgeon in Jammu Dr Amit Sood. To know about if bariatric surgery covered under insurance policy please visit policy page.