Best Bariatric Surgeon in Amritsar
Best Bariatric Surgeon in Amritsar
Dr. Amit Sood is the best Bariatric Surgeon in Amritsar, India, Dr Amit Sood is qualified to perform a wide range of Bariatric and Metabolic surgeries for Type 2 Diabetes and other chronic medical ailments. Bariatric surgery can be life-changing for those who want to lose weight but do you know that apart from reducing weight, it has many other health benefits.
Ckosmic Surgical Center founded by Amit Sood is an organization dedicated to spreading awareness about the treatment of obesity and diabetes surgery and its causes and effects. It has good infrastructure, a highly equipped ultra-modern high definition operation theatre, and last but not least a team that takes care of its patients. Ckosmic offers a wide range of surgical solutions for best weight loss and metabolic surgery and is one of the best weight loss centers in India.
An obese person who has not been able to lose weight with conventional methods (diets, exercise and other weight-loss options) or has found it difficult to maintain
A . Who has BMI more than 35 kg/m2without any associated co-morbidities.
B . Who has BMI more than 32.5 kg/m2with associated co-morbidities.
Anyone who has weight related co-morbidities like:
High Blood Pressure
Type2 Diabetes mellitus
Lipid profile
Gout
Thyroid
Snoring or sleep apnoea
Joint pain/Arthritis
Infertility/PCOD
Psychological Dysfunction due to weight
Cancer
C . Who has uncontrolled Type II Diabetes with some Grade of Obesity or a BMI > 27.5 kg/m2(these procedures for treatment of Type II Diabetes performed in large number at our centre).
Benefits Of Bariatric Surgery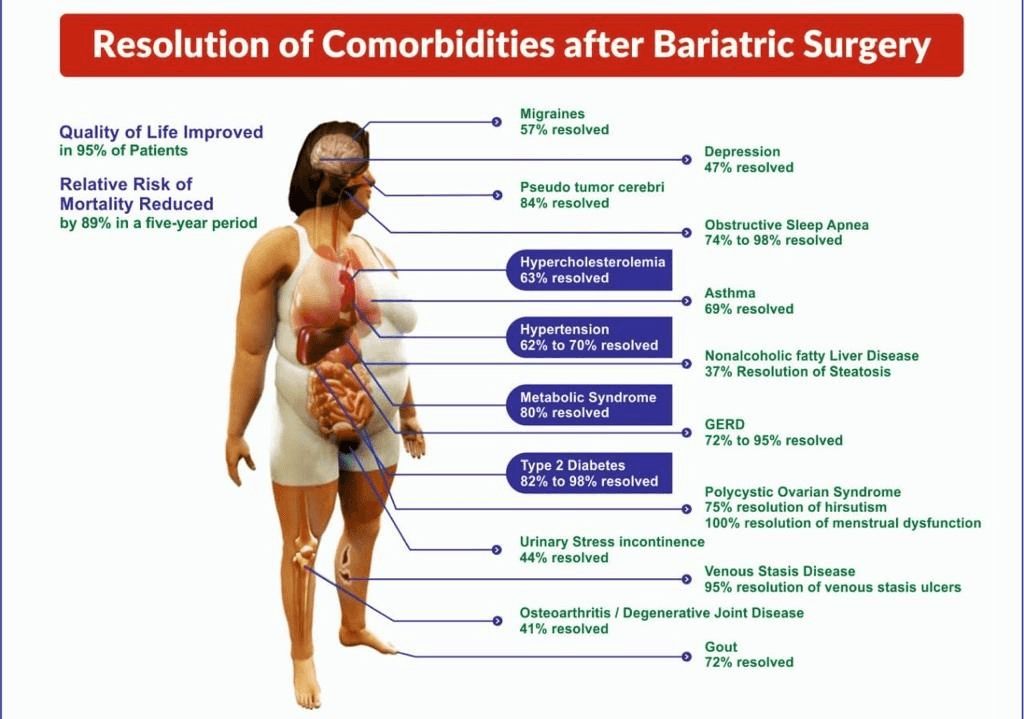 Our patients have been able to lose up to 70 – 85% of their excess weight. Those thinking about surgery should talk to our Doctor about what their personal expectations should be for loss of excess weight. In addition to this, co-morbidities such as diabetes, high blood pressure, sleep apnoea, infertility, thyroid etc… are often reduced or completely cured.
How Bariatric Surgery is more Successful
The Benefits Of Bariatric Surgery
Bariatric surgery may reduce chronic obesity in obese people who have not had much success with other weight-loss devices. Bariatric surgery significantly reduces the capacity of the stomach, which leads to overeating and makes you feel full sooner. Some bariatric procedures also determine caloric intake. Your doctor can help determine if you qualify for bariatric surgery and, if so, which option will work best for you. If your BMI is 35 or higher, it means you need to lose more than 30kilos to reduce your health risks. Huh. Almost everyone with a BMI of 35 or more is a candidate for surgery," says surgeon Dr. Amit Sood.
Best Bariatric Surgeon in Amritsar Dr Amit Sood offers people significant and sustained weight loss. "Many people who need to lose 25 or more kilos and have tried to lose weight on their own several times, although they may have some success at first, but less than 5% of the people keep their weight off, five years or more. In fact, patients' weight usually goes back in less than a year", says Dr. Amit Sood. Losing weight and regaining it does nothing to reduce the potential health problems associated with obesity. You must keep the weight off for at least five years for the loss to be considered successful and a result that can make you happier, healthier.
Long-term remission for Type 2 Diabetes. One study reported that Best Bariatric Surgeon in Amritsar Dr Amit Sood provides long-term remission of type 2 diabetes. The results of this study suggest that the procedure is highly effective for obese patients with type 2 diabetes, allowing almost all patients to remain free of insulin and other related drugs for at least three years or more after surgery or lifelong varies from patient to patient. Improving heart health. Weight loss surgery also lowers a person's risk of coronary heart disease, stroke, and peripheral heart disease. Additionally, one study reported that weight loss achieved by surgery may help reduce the risk of stroke, hypertension, and death associated with myocardial infarction. Blood pressure and cholesterol levels can be normal or nearly normal after surgery, reducing these risks and improving overall well-being.
Many obese people feel depressed due to body deformities and social disdain. Even very obese youth find it difficult to perform many tasks that normal people do with ease and pleasure, leading to social isolation and depression in overweight youth. In addition, when these people lose weight after bariatric surgery, social, emotional health improves in these patients. In bariatric surgery, there was a 32.7% increase in depression at the time of surgery, and the decline in that increase after six to 12 months is now 16.5%. When someone is overweight and has difficulty lifting, sitting and walking, a lot of pressure is placed on that person's joints, often leading to chronic pain and joint damage.
The significant and persistent weight loss that occurs after bariatric surgery relieves joint pain and allows people to enjoy greater mobility and freedom to function or stop using painkillers after bariatric surgery. With obesity and all its associated health problems increasing at an alarming rate, bariatric surgery certainly represents a powerful tool for providing relief from chronic diseases for people who are overweight. Before deciding to have bariatric surgery, it is of paramount importance to select a facility with extensive experience in performing bariatric surgery procedures.
Dr. Amit Sood the best bariatric surgeon in Amritsar says, bariatric surgery is very safe and when performed by a knowledgeable and experienced team, The best facilities have an experienced team of experts who help people make the right choice through emotional and psychological counselling before bariatric surgery and an experienced team of experts to provide continuous support even after bariatric surgery. "Patients have the best chance of success when they are assisted by an experienced medical team of specialists that includes best surgeons, bariatric medical practitioners, nurses, psychologists, endocrinologists, and dietitians," says Amit Sood.
Our motto "There is no bigger honor in the world for a human being than to be trusted with another human's wellbeing.
Cost of Bariatric Surgery
The cost of bariatric surgery varies from patient to patient depending on lot of factors like the type of surgery chosen, associated co-morbidities, multi-port or single port, the stay at hospital (room rent, duration) etc.
 We offer Bariatric Surgery at Reasonable costs and also under all Medical Insurances. To know about if bariatric surgery covered under insurance policy please visit policy page.