Weight Loss Surgery Vancouver
Today we know that it is not an aesthetic problem but a morbid condition that can be the source of many other life-threatening problems. Diabetes mellitus, cardiovascular disease, respiratory disease, skeletal disease, joint disease are some of the diseases that accompany it. In addition, conservative treatment of obesity has limited potential and high socioeconomic costs. This knowledge combined with the urgent need to address obesity is what in recent years has pushed more and more sufferers into bariatric surgery.
The best bariatric surgery in Vancouver is a specialty of surgery that deals with the fight against obesity. Weight loss surgery in vancouver are performed on the digestive system and aim to reduce food intake and energy intake. Some bariatric procedures can also be used to treat diabetes and hyperlipidemia. That is why bariatric surgery is now called metabolic surgery.
Obesity is associated with an increased risk of developing the following conditions:
Hypercholesterolemia,

Type 2 diabetes,

Arterial hypertension,

Metabolic syndrome (high glucose, high blood pressure, high triglycerides, low HDL cholesterol),

Heart disease,

Stroke,

Cancer (uterus, endometrium, cervix, ovaries, breast, colon, rectum, esophagus, liver, gallbladder, pancreas, kidney, prostate),

Sleep apnea (sleep disorder in which breathing stops and starts again and again),

Gallstones,

Female infertility and menstrual disorders,

Erectile dysfunction,

Non-alcoholic fatty infiltration of the liver (Accumulation of adipose tissue deposits in the liver),

Osteoarthritis.
In addition to the aforementioned pathologies, obesity also affects the patient's quality of life in the following ways:
Depression,

Sexual problems,

Shame and guilt,

Social isolation,

Lower professional achievements,

"Disability".
Benefits Of Bariatric Surgery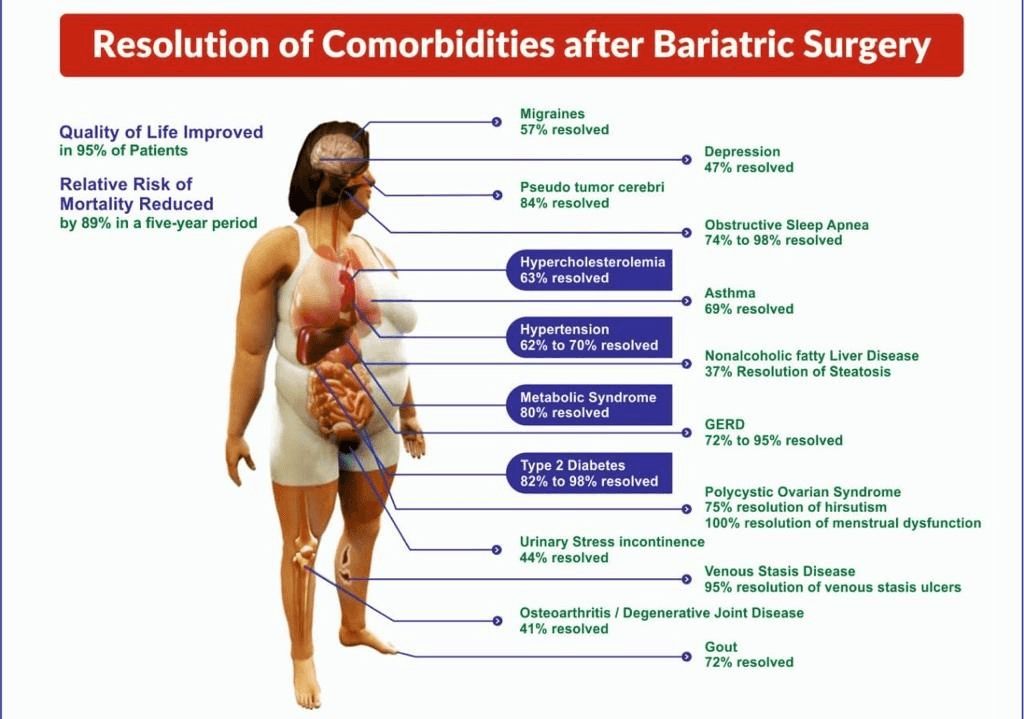 Our patients have been able to lose up to 70 – 85% of their excess weight. Those thinking about surgery should talk to our Doctor about what their personal expectations should be for loss of excess weight. In addition to this, co-morbidities such as diabetes, high blood pressure, sleep apnoea, infertility, thyroid etc… are often reduced or completely cured.
How Bariatric Surgery is more Successful
What Surgery Should I Choose?
The types of bariatric surgeries are as follows:
Laparoscopic Gastric Bypass:-
Gastric bypass was first used as a form of best bariatric surgery in Vancouver that also affected the patient's eating behavior. Due to the frequent complications of the operation, several modifications were made to this surgical technique, resulting in its establishment as bariatric surgery in the early decade.
It is now considered the golden rule of treatment for morbid obesity.
After surgery, you are expected to lose 60-70% of excess weight and 75% of recurrence of comorbidities (diabetes, hypercholesterolemia, hypertension, sleep apnea).
After bariatric surgery in vancouver, the patient will visit his doctor in 1-3 weeks and a total of 4 times in the first year. Then the doctor will monitor him once a year.
It is advisable to eat small and frequent meals, high in protein and low in carbohydrates. Taking dietary supplements such as multivitamins, vitamin B12, calcium and iron is also recommended, while repeated laboratory tests will uncover some deficiencies. As in the previous case, the principle of physical exercise is important.
According to studies, surgical complications are markedly smaller than that of cholangiopancreatic bypass, while they are mainly related to infection of the surgical incision, escape from anastomoses, bleeding, bowel obstruction, and hernia.
Laparoscopic Gastric Banding:-
The open method was first described by placing a 1 cm ring under the lower esophageal sphincter. Ring placement has been studied compared to invasive methods in patients with a BMI of 30–35 kg/m2 and appears to be more effective in terms of weight loss surgery in vancouver, reversing comorbidities, and improving quality of life. Loss of extra pounds generally follows a pattern, with a reduction of 35% in the first 6 months, 40% in 12, and 50% after 2 years.
It is also described in the literature that this weight loss is stable for 3-8 years, while it is also reported that 1 in 4 patients is unable to achieve the loss of extra pounds by 50% within 5 years. Along with weight loss, there is a reversal in diabetes, gastroesophageal reflux disease (even in the presence of septal hernia), sleep apnea and improved quality of life.
After best bariatric surgery in Vancouver, there are no clear guidelines as the gastric ring is adjustable and the patient's course depends on the gastric ring company and its doctor's instructions. After a while, the patient is able to consume almost any type of food, however, he must be strict with the number of meals because of the risk of dysphagia. The patient should ensure adequate amounts of proteins and complex carbohydrates as well as limit the intake of fats and sugars. In the above cases the introduction of physical exercise is recommended.
As a surgical method, it has the lowest mortality rate compared to previous bariatric surgery. Complications of weight loss surgery in vancouver can be dilatation of a part of the esophagus or stomach, gastric obstruction, perforation, and ring motion. Due to the increasing frequency of repeated bariatric surgery in vancouver to replace or remove the ring (1 in three cases), it is no longer widely used in clinical practice.
Weight Management Program:
Nutrition is what gives us the raw materials for recuperation, energy and growth. Without a balanced diet your dreams of achieving ideal body will never be reached.
This program is a safe and effective weight loss program which helps to keep the weight off over a long period through food education and life style.
As part of the program you need to come for regular follow up with our nutritionist who will monitor your progress in terms of body fat % and muscle mass.
We also provide medical nutrition therapy to help individuals manage chronic conditions like diabetes, dyslipidaemia, hypertension, kidney diseases, PCOD etc and promote wellness. Our nutritionist evaluates your diet and lifestyle. Once we have a realistic picture of your health, our nutritionist will prescribe a food plan than can seamlessly fit into your routine.
Cost of Bariatric Surgery
The cost of bariatric surgery varies from patient to patient depending on lot of factors like the type of surgery chosen, associated co-morbidities, multi-port or single port, the stay at hospital (room rent, duration) etc.
 We offer Bariatric Surgery at Reasonable costs and also under all Medical Insurances. To know about if bariatric surgery covered under insurance policy please visit policy page.